Classes meet on Wed evening, 4p-6p at our Sawmill Studio.
Inclement Weather Policy:  I'll watch the weather closely during our months inclined to inclement conditions.  I will post on the blog any day that classes are closed due to weather so be sure to check the blog for updates.  Classes will usually close if Wake Co. NC schools are closed due to bad weather.
______________________________________________________
Feb 6, 13, 20, and 27 and March 6.  Trio of Leaves. My own design, red bud, generic, and sweet gum leaves.
Trio of Leaves $112. 

____________________________________________
March 13, 20, and 27. Pastel Fox. Kay Witt designed this striking fox in pastels. Contact Liz early to make sure you have the needed pastels.
Pastel Fox.  $84 
__________________________________________________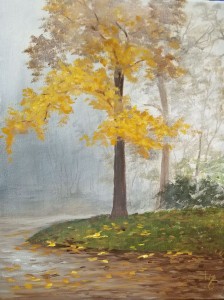 April 3, 10, and 17. Tree in the Fog.  We'll learn to create background fog in the trees while experimenting with different brushes to form our foliage. Acrylic on 11 x 14″ canvas
Tree in the Fog. $84  
---
April 24, May 1 and 8. Sun through the Mist.  We'll continue to use our acrylic skills to create more environmental effects as we paint sun shining through the line of trees in the early morning. Acrylic on 8 x 16″ canvas
Sun Through the Mist.   $84 
---
May 15 and 22. House Finch, colored pencil. Join us as we explore colored pencils while creating a Liz Miller original House Finch design.  Register by May 6 to order Prismacolor pencils if you need them.
House Finch. $56.  
---
May 29, June 5, 12, and 19. The Lake. Our acrylic version of a Dorothy Mullins peaceful lake scene.  Acrylic on 12 x16″ Canvas
The Lake. $112. 
---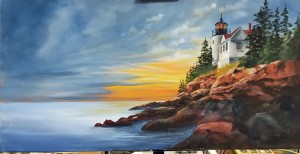 June 26, July 3, 10, and 31. (dates may change due to July 4th)
Bass Harbor Light House. If you missed it the first time here is one more opportunity to paint the Bass Harbor Light designed by Liz and painted in acrylics. Acrylic on 12 x 24″ canvas
Bass Harbor Light.  $112. 
---
---
Save
Save
Save