Classes meet on Wed, 10a – 2p each week. Includes a lunch break for socializing.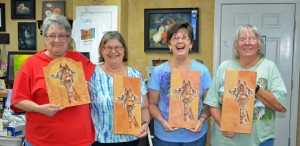 Inclement Weather Policy:  I'll watch the weather closely during our months inclined to inclement conditions.  I will post on the blog any day that classes are closed due to weather so be sure to check the blog for updates.  Classes will usually close if Wake Co. NC schools are closed due to bad weather.
I'll have photos as soon as I get samples painted.  So much to paint and so little time. Isn't it nice.
2017 Classes!
March 8. This week is the time to finish up your animal or still life.
Finishing $42 
______________________________________________________
March 15 and 22. Join us for more Explorations in Watercolor.  We'll learn to paint mountain fog as well as learn wet on wet in watercolor and how to paint snow.
Explorations in Watercolor $84 
_______________________________________________________
March 29, Apr 5. Road to Know-where.  From a photo taken in the Tnn mts we'll create a work of art.


Road to Know-where.  $84 

_____________________________________
 
Save
Save
Save
Save
Save
Save