Classes meet on Wed, 10a – 2p each week. Includes a lunch break for socializing.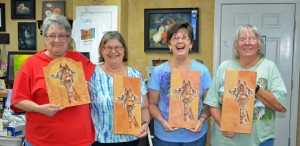 Inclement Weather Policy:  I'll watch the weather closely during our months inclined to inclement conditions.  I will post on the blog any day that classes are closed due to weather so be sure to check the blog for updates.  Classes will usually close if Wake Co. NC schools are closed due to bad weather.
I'll have photos as soon as I get samples painted.  So much to paint and so little time. Isn't it nice.
Sept 13. Santa Face. From a JoSonja Jansen sketch we'll paint our version. I am painting on an 8″ round ornament shape and have some of these in the studio for purchase. But, you can choose your own surface.

Santa Face: $42. 
Sept 20. Skinny Beach. Our 4″ x 12″ colorful version of a Ros Stallcup beach design. So cute in this size. I have these canvases in the studio for purchase.
Skinny Beach. $42.
Sept 27 and Oct 4. Gretchen's Poinsettia. From a Gretchen Cagle design we'll paint our version of her beautiful red poinsettia flower. Choose your holiday surface.
Gretchen's Poinsettia. $84 
Oct 11. Winter Watercolor Card.  We'll paint a wonderful watercolor card of a winter sunset from a Sue Scheewe design.
Winter Watercolor Card.  $42 
Save
Save
Save
Save
Save
Save