Classes meet on Wed, 10a – 2p each week. Includes a lunch break for socializing.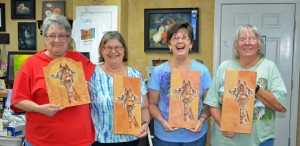 Inclement Weather Policy:  I'll watch the weather closely during our months inclined to inclement conditions.  I will post on the blog any day that classes are closed due to weather so be sure to check the blog for updates.  Classes will usually close if Wake Co. NC schools are closed due to bad weather.
I'll have photos as soon as I get samples painted.  So much to paint and so little time. Isn't it nice.
2017 Classes!
May 3, 10, & 24. Road to Know-where.  From a photo I took in the Tnn mts we'll create a work of art.  You'll have lots of flexibility with this design, adding your own trees and flowers as your creativity inspires you.


Road to Know-where.  $112 
 _____________________________________
 
May 31 & June 7 . Waves and Gulls.  From a design by Jonnie Mason Liliedahl we'll create an ocean scene with crashing waves and gulls flying overhead. Acrylics and add a little palette knife play…

Waves and Gulls.  $84 

 June 14 & 28. Sunset Beach. We have another paint your own design so find a sunset or sunrise beach, or other setting,  photo and let's work on a dazzling sky scape.

Sunset.  $84 

Wed, July 5, 10a – 2p

Open Class

Here's you opportunity to finish up a project or work on something of your own with Liz's assistance. Register by June 28.

Open Class. $40 
Save
Save
Save
Save
Save
Save