All Workshops are held at our Raleigh studio.
Register at least 1 week in advance.
Workshops and Play Days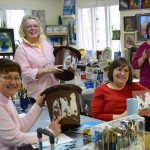 Attend our studio workshops taught by Liz focusing on a technique or concept to further your art education.
Paint with a nationally known teacher in one of our seminars featuring their style and special abilities. 2016 Seminar Schedule features exciting seminars with nationally know artists.
Ros Stallcup:  July 19-22, 2017  Registration will open in Jan 2017. Projects are all new and Ros will be painting them next spring.  I'll have them at the studio usually in April.

Mark Polomchak:  This fall, 2017  Those of us who painted with Mark last fall enjoyed painting with him so much that I invited him to return to teach for us at Artful Endeavors in 2017. Mark's skill, patience, and humor make this an awesome seminar.

Kathie George: Kathie is back with us  Nov 13-15, 2017!  And yes, we will do a batik this year by request.

Save