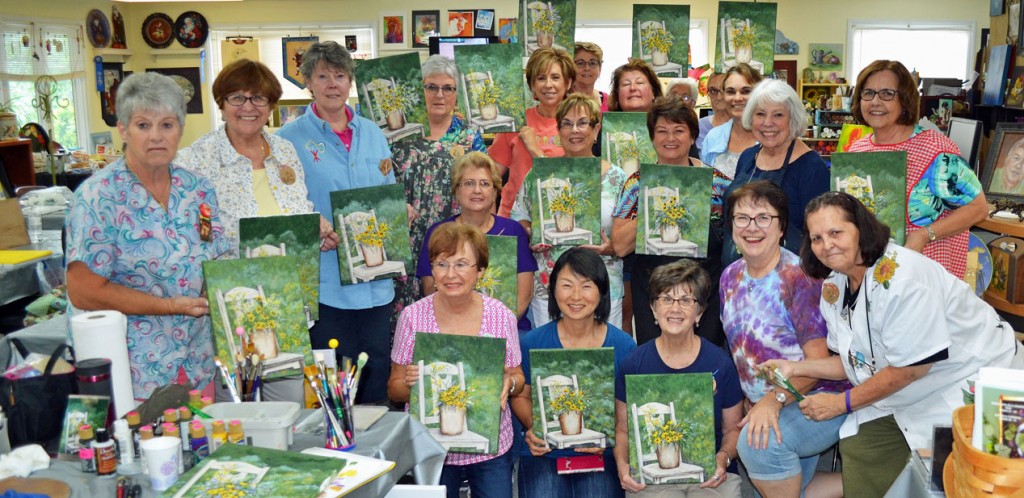 We're excited that Ros is coming back to teach for us again in 2017. 
We'll be celebrating 20 years of painting with Ros at Artful Endeavors!
Dates are July 19, 20, 21, & 22, 2017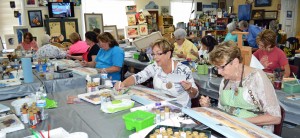 During our seminar last July we collected project ideas for this year's seminar from last year's students. Now Ros has our ideas and it is always exciting to see her creations fill out these ideas and become works of art.
As usual she is creating completely new paintings for us. I start looking for her surprise box of paintings to arrive sometime in April.  Until then we have an outline of what to possible, perhaps expect.
Wed: Basket or container of a variety of flowers. Possibly with a bird? We've given her a color palette to work with.

Thurs: Stan's beach dunes.  From a photo taken by Stan Brown.

Fri: Winter Still Life with possibly berries, pomegranates, and maybe a snow bunny? Again we suggested colors.

Sat: Pumpkin Extravaganza, different ways to use pumpkin and gourd designs on various surfaces…bags, shirts, and whatever else we come up with. Sure to be lively.
Single day registration will be available May 1. But of course you want to paint all 4 days. Last year we filled before single days were available so don't delay. Register Now!
Cancellation policy: $100 is non-refundable and non transferable. Seminars require planning and preparation. Expenses are incurred prior to the seminar.
Balance refunded if cancellation is at least 44 days before seminar. No refunds of any kind are given if cancellation is within 45 days of seminar. No refunds after June 4, 2017
If the instructor cancels the seminar fees will be refunded or transferred to another seminar.
Completed registration form is required.  Print and email or mail.
Register on line by credit card or by check in the mail.
Ros Stallcup Seminar 2017 Registration Form must be filled out to register.
July 19 – 22, 2017
Save
Save
Save