design by Liz Miller CDA
I have a Halloween treat for you to paint in plenty of time for fall. Directions for my spooky owl pen. It's a free design that I created from a cute wooden cut out from Bear With US, item 2512 on their web site and DecoArt Americana acrylics. I made it a pin. Hope you like it. Enjoy.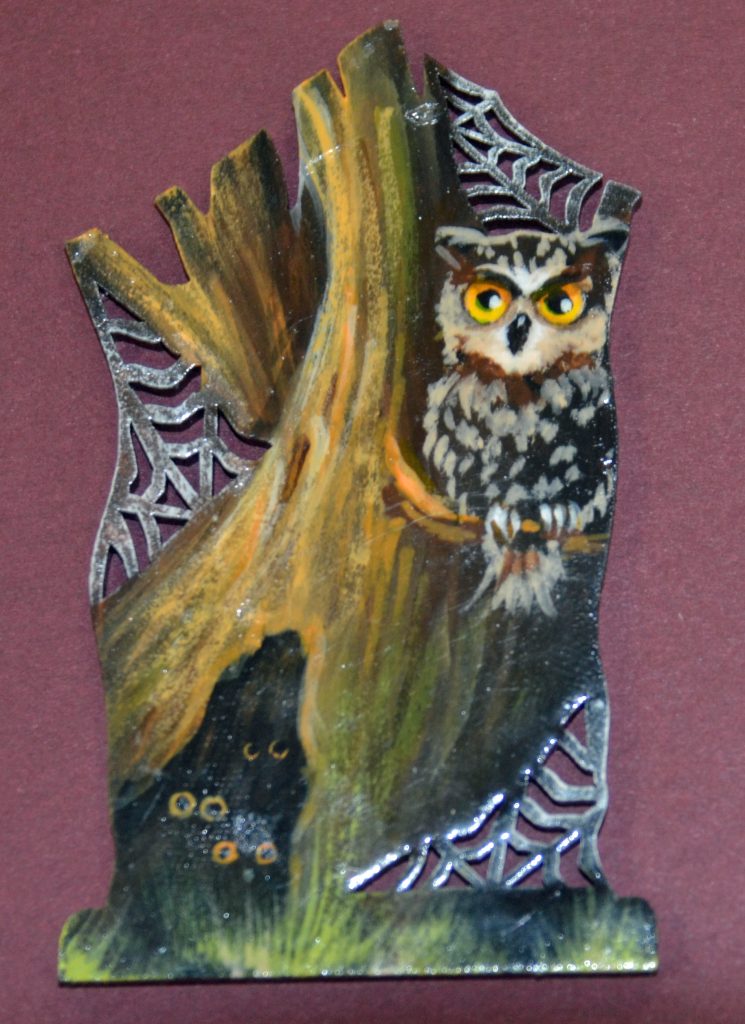 Spooky Owl Pin A Liz Miller CDA designYou can use your favorite colors but here are some of the ones that I've used:DecoArt Americana: Lamp Black, Raw Umber, Butterscotch (discontinued) or Antique Gold, Warm White, Marigold, Irish Moss, Tangerine, and Burnt Sienna.
Let's Paint a Spooky Owl in a Tree:There is no base coat. Apply pattern for tree.I used a flat Bringle Blender to scuff in the tree using the chisel edge of the brush and RU. Then use Butterscotch or Antique Gold and a very little Butterscotch (Antique Gold) + WW to lighten the left side of the trunk and branches. I then added a little scuffed in Tangerine to accent the light side and middle of trunk. Use a side loaded flat to darken the right side of trunk with Black. Of course the hole in the base of the tree is painted black. The spider webs are also painted black. Dry and then pattern your owl.Using a #0 liner dab in the owl with RU to create fluffy feathers. Begin to fluff in the lighter feathers by adding WW to your dirty brush. Notice the light feather on the face and details on the head and body. Don't forget the tail feathers. Lighten the face by adding more WW to your dirty brush. Eyes are Marigold and shaded at the top with BS when dry. Outline them with RU. Pupils are black with a WW glint. Beak is RU with a WW glint. I added a little dabbed in BS under the chin and at the base of the tail. Add a few WW claws to hold onto the branch that you add with your tree colors. Add any other owl like detail that you would like. To finish up dry brush a little WW on the spider webs and touch in some Tangerine eyes inside the hollow of the tree with black pupils and WW glints. I then flick up some grass at the base of the tree with Irish Moss, a nice spooky bright green color, using my flat blender.Dry and spray with DecoArt Triple Thick spray several times allowing plenty of dry time between sprays. Remember not to touch the varnish to check dryness unless you would like to leave a nice finger print for later ID purposes. When dry glue a pin back to your painted treasure and enjoy wearing. Have a spooky time painting this project. We will have some fall season to enjoy this little pen.
You are welcome to teach this design but be sure to give me credit for the design. Email if you have difficulty down loading the pattern. artfulendeavors@raleigh.twcbc.com