It's amazing how much having a sick computer is a hindrance.  Yes, my studio computer is in the shop and needs a new mother board, oh no!  The good news is that's it under warranty and won't cost me anything. Yeah!! I love having my computer especially built for me by Intrex here in Raleigh and having local support.
However,…  not having my work computer means that I don't have access to my email with all my distribution lists.  So this is a test for all of you, to see who is actually reading my blog and which ones have become too dependent on my email updates to check the web site.  Let me know that you read my blog.
Our class updates for April are posted on the class pages.  We've added and rearranged so be sure to check the schedules.
We've add another tjap class for those of you who missed it last week, this time in the evening.  There is an explanation and photos on the Wed evening class page.
Also the Wed evening group has added a dragonfly class. I know there are lots of dragonfly fans out there. Easy and lots of fun.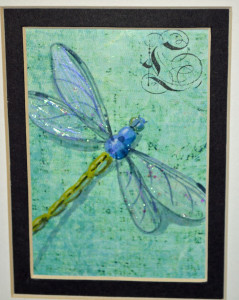 Cary and our Wed day class has added some great new classes too, so be sure to check them out.
Our last two play days have been so successful and we're looking forward to our May 9 Assemblage Play Day.  Be sure to register early and talk to me about particulars.  More info on the Workshop page.
On April 12, that's a week from Sat is our furniture design workshop using the DecoArt Chalky Finish paints and their terrific new French stencils.
I have the paint to share and the stencils as my treat to you, so here's a great opportunity to try them out.  I've created some samples with the products and love them, the products that is but the samples too.  DecoArt is expecting this line of paints to be their next BIG BIG sellers and we are getting to experience them first. I'll be one of the first retailers to stock them starting in May.  (Right now they are only available at Home Depot, mostly on line)  Come help me choose which color to stock.
There are many beautiful colors to choose from with french stencils, crackle, stain blocker, wax, and varnish in the line also.  You can see more about the products on the DecoArt web site.  Be sure to check out some of the Chalky Finish videos too.  Of course our creations will be most awesome.
Single day registration for our seminar with Ros Stallcup is now open.  The surfaces are on their way to Ros and we'll have samples later in the month.  But go ahead and register now to secure your seat.
Don't forget to tell me that you read this blog post and I'll see you in class soon.
Liz