My computer is back and getting up to speed with it's new mother board. It's so nice. What did we do before computers? I remember having to do a lot of cutting and pasting to create a newsletter, not to mention folding, stapling, and mailing ….
I hope you've been keeping up with the blog where all my news has been for the last couple of weeks. With my computer in the shop I wasn't able to send out a newsletter so I had to rely on you to check the web site.  Be sure to check out the upcoming classes.
We've been busy painting a wide variety of projects.  We've started new canvas projects in our day Raleigh class, Hodgson Mill,  and Cary evening class, Boy Fishing using our version of an old masters technique.  We're learning lots of new techniques and practicing some of our usual favorites.  We've had fun with Tjaps batik in a Sat class and on Wed evening with some excitingly creative effects and outcomes.
This past Saturday a group of students and I experienced working with DecoArt's splendid new Chalky Finish Paints and Mediums.  After discussing many design possibilities including distressing, crackling, stenciling, and more with these terrific products, each painter tackled their own small furniture piece with and eye toward how they intended to use the piece.  Here are a few photos to share our fun.  Follow the link above to find out more about these great products.
Ok the web site dosen't want me to upload some of my photos of the student's projects. I'll add them a little later when I figure out the difficulty.
But here is my stool that I gave you a glimpse of earlier.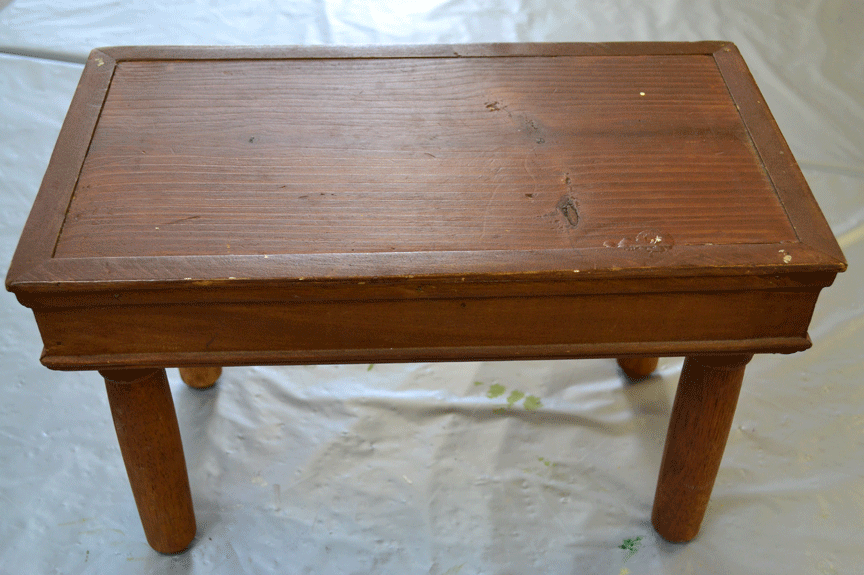 I forgot to take a photo of the first stage but I added areas of orange and bright green to give the effect of past paint jobs that are being  uncovered by the crackle.  That's right, the next step was to apply the crackle medium in areas. I decided not to do an over all crackle on this piece.When that was dry I applied the top coat of red.  It was exciting to watch the cracks begin to occur even before I had finish the red coat.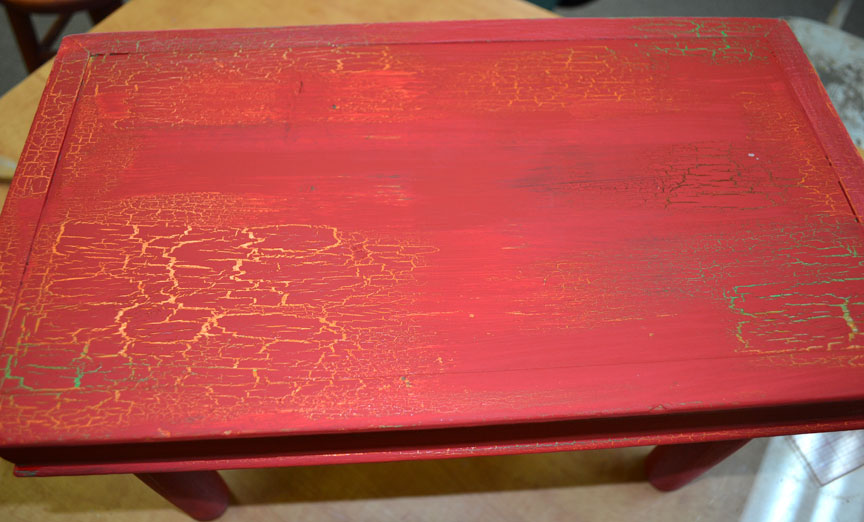 The red will work nicely in my house.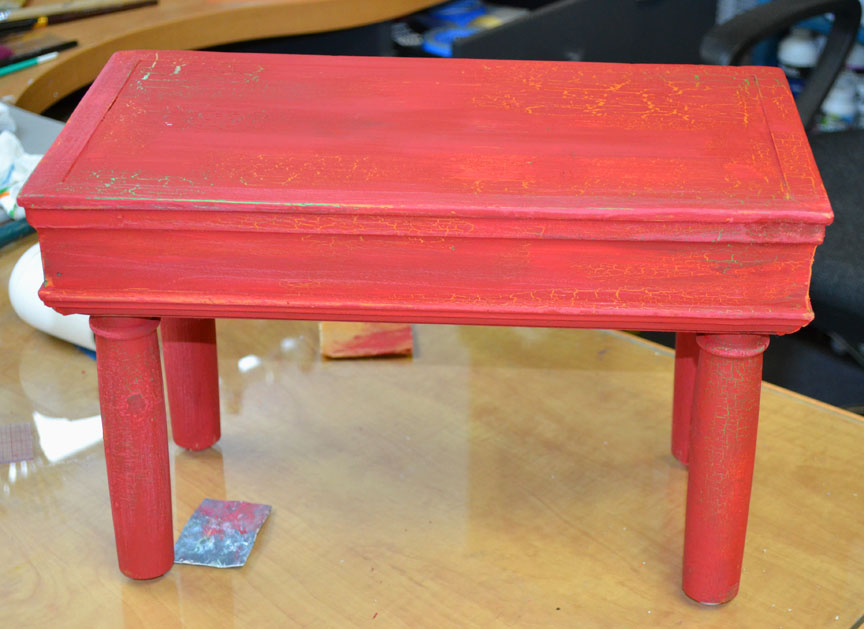 Then I decided to add a stencil for character.  I'm pleased.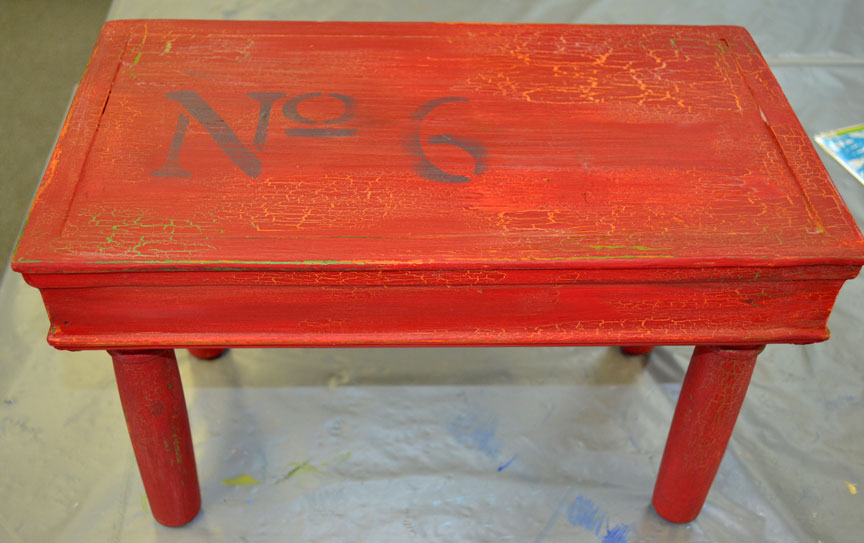 Now what will I work on next?
Here's Carol's red rocker. It turned out so cute.  Those are kitties on the seat.
I'll have more photos of the process as soon as I can get them down loaded.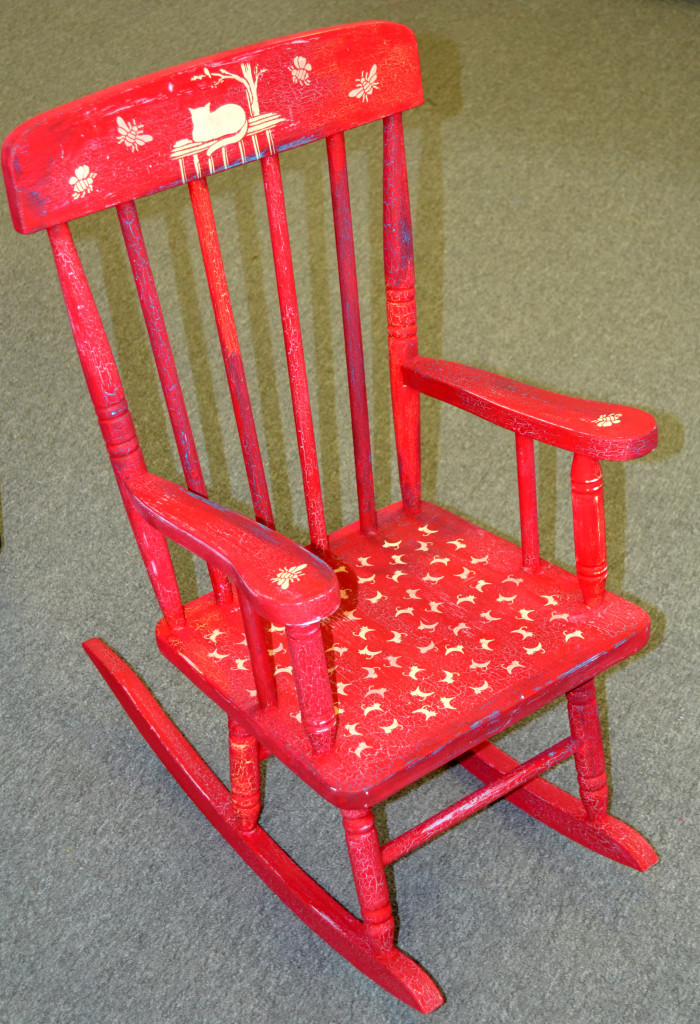 And I finished my blue revival chair. Love it!
You'll see our student's work on Artful Endeavors' face book page.