Registration is open for our seminar with Susan Crouch, April 28, 29, and 30, 2016!
Our 2015 seminar with Susan was wonderfully educational and we all learned a lot.  Our watercolor paintings turned out beautiful and we are excited to have Susan back with us for 2016.  Susan is a wonderful teacher and beautiful artist.
Susan Crouch Watercolor Workshops 2016
Level: Beginner with basic watercolor skills / Intermediate
With a focus on light and color, we will explore ideas for interpreting the subjects of nature in watercolor. You'll learn a step-by-step approach for planning your composition that includes working with photos, creating a value pattern, and selecting colors for your painting. Possible projects include flowers, birds, or other animals. Drawings and reference photos are provided so you can paint along as I demonstrate – or if you prefer, bring you own reference material and paint the subject of your choice. Each year new demos are created to provide practical experience with various subjects and watercolor techniques.
Register Now!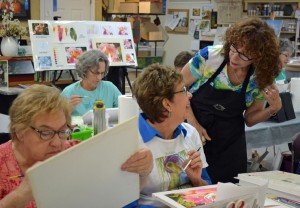 Susan lives in North Carolina where she has been painting in watercolor for over 20 years. She is a signature member of the Watercolor Society of North Carolina and her artwork has received numerous awards. Susan has created designs for the Dayspring Division of Hallmark Cards, and her paintings have been selected for publication in Splash 12: Celebrating Artistic Vision and Splash 14: Light and Color (North Light Books)
Susan's techniques are featured in her DVD, Painting in Living Color: Carolina Morning (Artist Palette Productions). In addition to teaching workshops, Susan has exhibited in juried outdoor art festivals throughout the Southeast.
www.susancrouch.com