Hello, Art Enthusiasts!
What's New
I'm traveling to the Society of Decorative Painters conference this week! And I'm eagerly looking forward to seeing friends that I haven't see in too long and learning from the classes I'll take. I have my colored pencils packed and my acrylic supplies. My classes will be with Mark Menendez, Janelle Johnson, and Lorinda Hull for colored pencil, and Sharon Hamilton for acrylic. It will be fun to do something our of my usual area of expertise.
I'll try to post photos from the conference so watch our Artful Endeavors Face Book page.
I just got congratulated for making the cover of the summer Decorative Painter Journal. I haven't see it yet so it will be a surprise to me.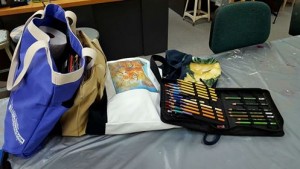 On Creative Workshops!
My Summer Romance is at Creative Workshops now and available for some relaxing summer painting. It's time to add a little romance to our paintings with this fun feminine design. We'll exercise our shading techniques to create shiny pearls and a gracefully flowing hat brim. Then we'll set all of our items down on a surface to give the effect of just waiting to be picked up. Join us in painting this quiet summer moment.
Theory and Techniques included: Light Source, Side Loading, Shading and
Highlighting, Dry brushing, Creating ripples, Border line work
9 videos, 10-15 minutes in length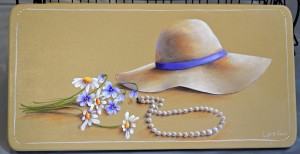 Pink Hydrangeas Packet Available
You've asked for a packet for my Pink Hydrangeas design in acrylic. It will be available when I return from conference. Watch the blog and Face Book for information on ordering. Packets will be sent in email form.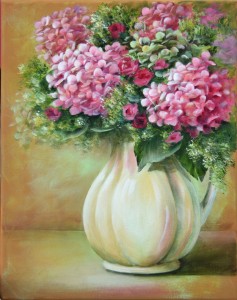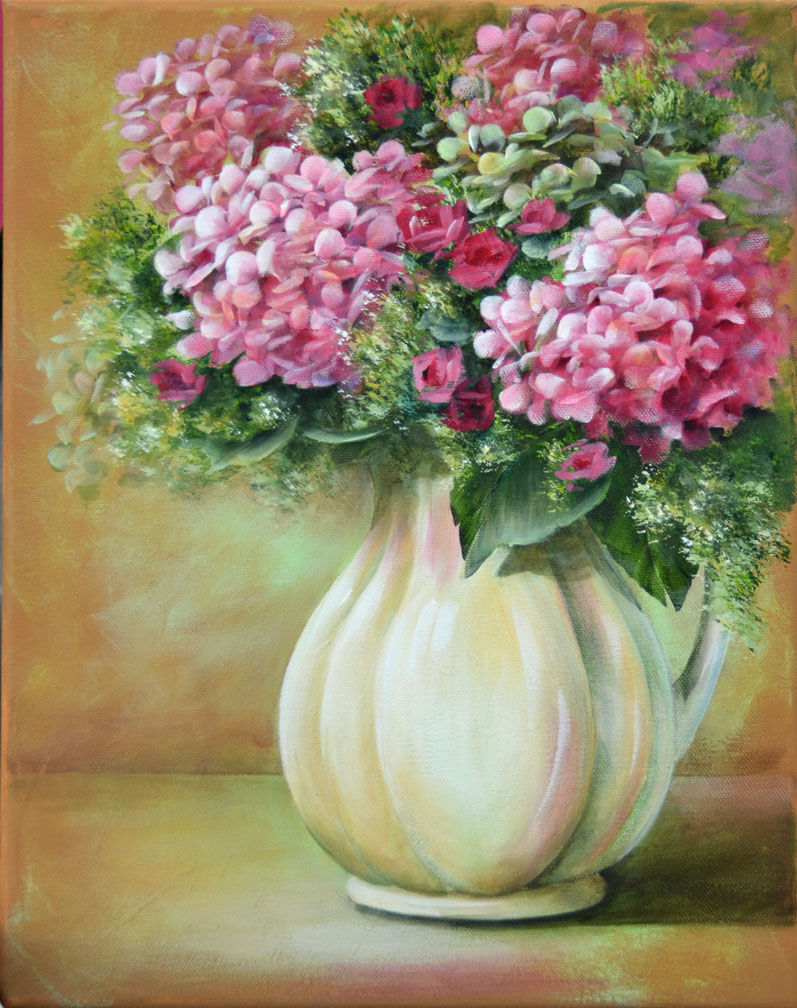 Seminars for 2017
Registration is open!
Ros Stallcup: July 19-22, 2017
Join us for our 20th year of painting with Ros at Artful Endeavors. Once again Ros has designed entirely new projects for us. Don't miss this opportunity to learn from Ros and just enjoy a painting-ful 4 days. Register now.
| | | | | |
| --- | --- | --- | --- | --- |
| Flower Basket | | Stan's Beach | | Winter Still Life with Bunny |
Pumpkin extravaganza

Register now for our 3 day seminar with Mark Polomchak.
Mark is back with more watercolor excitement. Plan to join us Aug 26, 27, & 28.
Single day registration opens in July if seats are available.
Sunday: Koi
| | | |
| --- | --- | --- |
| Saturday: Ibis | | Monday: Red Truck |
Our seminar with Kathie George
is scheduled for Nov 13-15, 2017. I'll post details soon. Kathie has just returned from her Africa painting journey. She'll have lots of exciting details to share with us.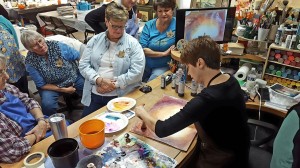 Waves and missing the gulls in progress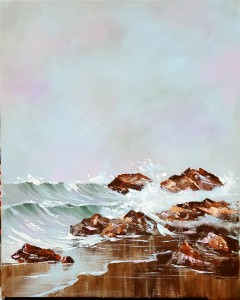 Weekly Classes and Workshops
We're adding to our schedules so be sure to check the web site for updates.
The waves and gulls in on the schedule and we're adding more Paint You Owns since the students are enjoying them and asking for more.
Class Schedules
| | |
| --- | --- |
| | From our Cary Class painting their own landscapes. |
Have a nice week and I'll see you back at the studio next week.
Liz