We don't see many flowers here in the south in winter but one of my favorites is the beautiful pansy. The Victorian meaning of pansies is loving thoughts or to think or consider. Pansies are so much fun to paint with their folds and curled edges. Let's consider painting pansies together. This pansy is white with a purple center and penciling. This means let's take a chance on our love of painting pansies.
Pansies are always so beautiful when the weather turns colder. They brighten up the landscape and my day with their beautiful colors. I love the delicate petals, their ripples and rolls. The challenge in this class will be learning how to paint the appearance of delicate petals with rolled and folded flower petals. We'll break down the techniques and learn together.
I've painted our pansy on a 5×5″ , 1 1/2″ canvas. I love these small canvases because they can sit to be displayed. Please feel free to choose your own surface. Just be sure to prep as needed. I've used DecoArt Americana paints. Colors can be flexible.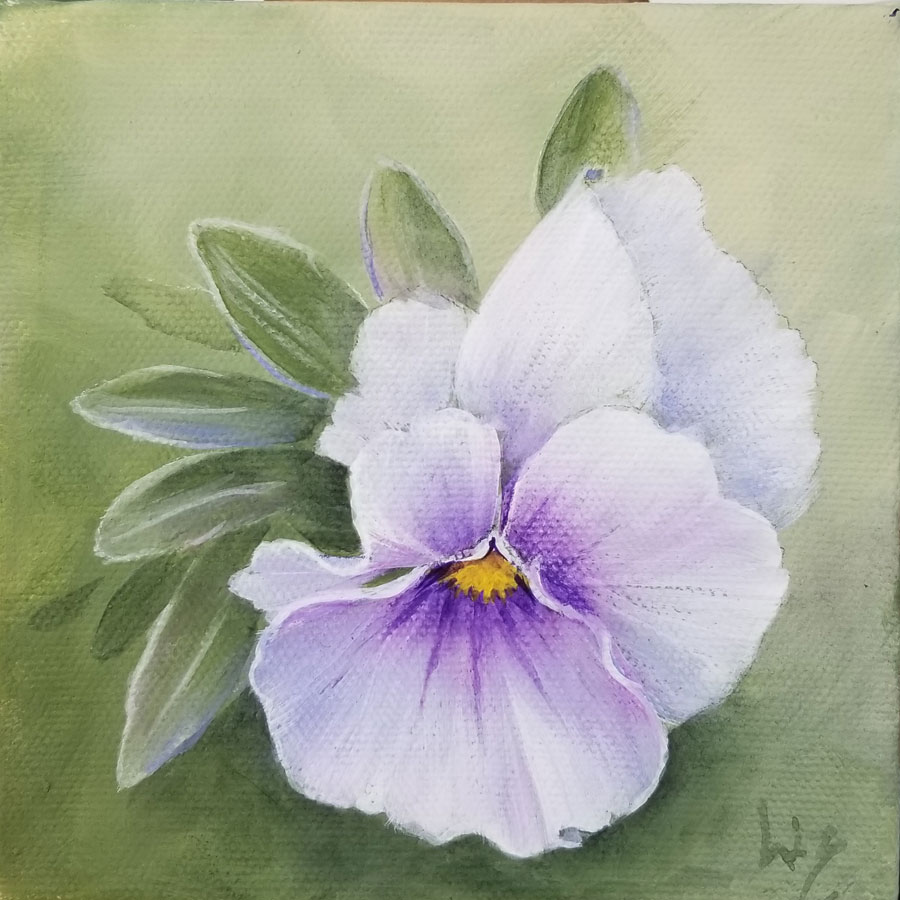 Classes are offered as weekly classes to allow time for homework and learning. Critiques are encouraged and offered weekly.
Classes are skill oriented rather than project oriented: I'll teach the art theory and technique for this painting. I hope to inspire your creativity while challenging you to increase your knowledge and skills.
Pansy Beauty is available as video.
The videos are available for you to watch as many times as you would like, rewind, and view again. Ask questions in comments and I'll answer or you can send me an email. Enjoy!
Join me for some fun learning.
More information about Face Book Live classes.
Registration information: This class is available on Face Book as videos. When you register for the class I'll send prep, photo, and line drawing as well as an invitation to the class. You must have a Face Book account to join the class group.
Pansy Beauty $40
(You can pay with a credit card on PayPal without having a PayPal account. Thank you.)