SDP Conference 2017 was an inspiring treat. Learning, seeing painting friends from all over the country, eating delicious foods, and being greeted by the ocean every morning and evening.

No teaching for me this trip. I was a "regular person" as someone said.
I took 3 colored pencil classes since I don't usually get to use colored pencils and have a lot to learn about them. 3 different teachers with 3 different focuses. Just what I wanted. Of course I had to do the cats with Mark Menendez and Lorinda Hull but then also the blue heron with my friend Janelle Johnson. Mark is coming to our chapter next year and it was exciting to experience what a great teacher he is. Looking forward to class with him again. Lorinda's cat was beautiful and she had a different touch with her colored pencils that was good to try. I didn't know I could create that solid a background with colored pencils. Janelle is always a wealth of information and I always learn so much in one of her classes, this time with colored pencil and pastels for the background. Loved the effect. Great classes.
And then Maggie and I took a class with Sharon Hamilton in color glazing. She had the underpainting completed for us so that we could just start focusing on the glazing. And they were looking wonderful using this technique used by the old masters. Sharon is amazing.

I have my samples at the studio if you would like to stop by and see them.
And then there was visiting with painting friends that I know, those I know from Face Book, and new friends I now know. Socializing was rampant. I had opportunities to catch up with current friends and it was fun to meet Face Book friends in person for a change.
All the painters and vendors at the trade show gave me new ideas after viewing their paintings and products. Did I mention that I'm inspired. And what fun to add a face to someone I've been doing business with for years. They really do exist in real life!  So now I have new wood products, stamps, and stencils to use for designing, restocked brushes, re-found products, and lots of ideas to explore.
And I know what is currently happening at the society. Come by and I'll bring you up to date.
And then there was the eating, wonderful meals…  During the days we had small quick meals before or between classes but then at night we enjoyed ourselves. One of my friends from Fla recommended Aunt Catfish's and it was so wonderfully deliciously good. If you get an opportunity to be close to Daytona Beach be sure to go to Aunt Catfish's. Sea food including catfish, hot bar, and salad bar with everything delicious. And on the river.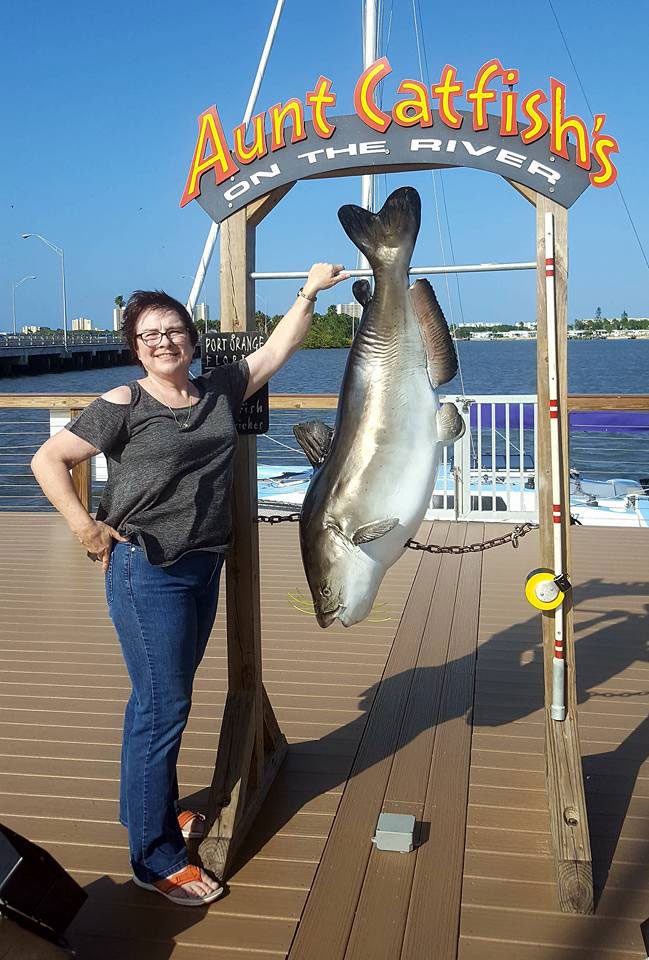 So now I'm back, inspired, and ready to create. Come join me soon.
Liz