These Workshops are held on Zoom and live streamed to YouTube. When you register for the class prep, photo, and line drawing are emailed. All information for the class is included in the registration fee.

Attending the class is easy. The class link is sent the day before the class. Follow the link and Liz will let you into the class room. Wear your best smile and enjoy painting. After the Live sessions the class is available on YouTube as video for those registered to view at their convenience.

The videos are available for you to watch as many times as you would like, rewind, and view again. Ask questions in comments during class or send me an email after class. I'll be glad to give critiques by email. Enjoy!
Join me for some fun learning.
_________________________________________________________
Winter's Calm Ornament
Wednesday Workshop, Dec 14, 2022, 2-4p Eastern
Are you ready to add one more ornament to your holiday collection? I've had quite a few requests for this design so here it is. We'll learn the different elements that you can use to create your own design.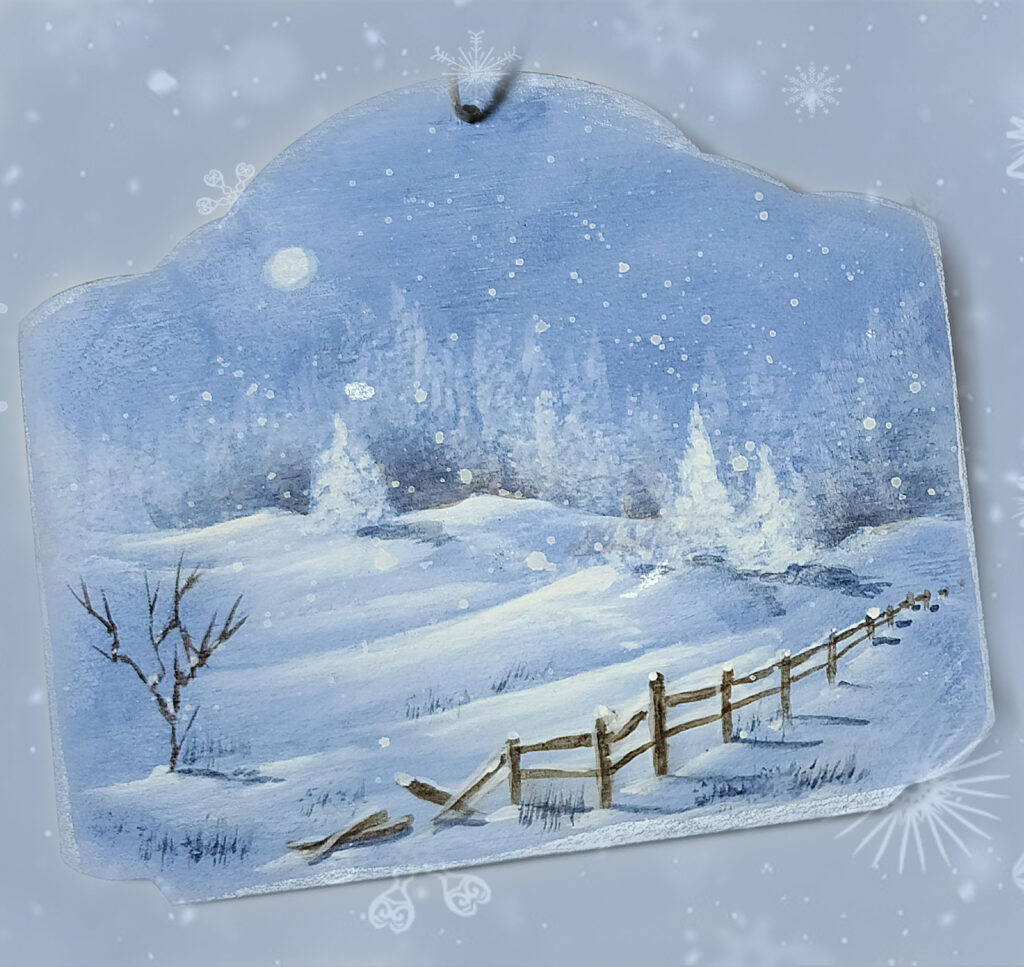 More information and to Register now!
This is painted in DecoArt Americana Acrylic. Various size ornaments
____________________________________
_____________________________________
Wednesday Workshops
Through my workshops I hope to inspire your creativity while challenging you to increase your knowledge and skills. Workshops are offered weekly to allow time for homework and learning. Critiques are encouraged and offered weekly. I'll teach the art theory and technique for each painting. Each time you take a workshop you are stretching your painting skill and increasing your knowledge. Classes are the way we as artists stay stimulated.
Our workshop is available to begin on Zoom and streamed to YouTube as a Video class. As a live class you can watch or paint along. You can ask questions during the class. The video will post on YouTube as a video after the Live presentation so you have access to it and can replay as many times as you would like. If you don't have time to join us for the Live Zoom Class and you have registered, you can watch the video by following the class link at your convenience.
When you register you'll be sent written instructions, pattern, and photo by email. Be sure to register by 12 noon the day before the Live stream so that there is time to email prep to you before class. If you register the day of class I'll send you class material after the live class.
At the Live class time follow the class link. Join with audio and video.
Be prepared if you plan to paint along. Or watch and come back to paint with the recorded video.
You can register at a later day and still enjoy the entire workshop as video.
The class will not post on the Artful Endeavors page and only registered participants will have access to the workshop page. When you register for the class you will be agreeing to not share the class with anyone not registered. Fees help to allow me to keep painting and teaching.
Things you might wonder about our Video Workshops:
🖌 1. Did you know that you can still take the workshop even if you missed the Live? You can; the videos are available in the workshop group and you can join any of the classes at any time.
🖌 2. Think the workshops are too hard for you? Not true. Each class is appropriate for all levels. I teach the art theory which applies at any level and the techniques just build on ones you already know. Every time you paint you increase your skill. What you paint each time will be better than what you painted before.
🖌 3. Each time you take a workshop you are stretching your painting skill and knowledge. Classes are the way we as artists stay stimulated.
🖌 4. Each of our Artful Endeavors workshop addresses a new challenge and reinforces previous skills and knowledge.
🖌 5. You have to miss one of the Live sessions; It's OK because the video is there for you whenever you are ready. Go ahead and register.
🖌 6. You can't paint as fast as I do in the Live session? It's OK. Many of the painters like to watch the Live and use the video to paint since you can stop and start the videos at your own speed.
📌 Plan to join us and learn. 🎨🖌
Oh, and watch for our next requested workshops! ☺️👍
All painting are original works by Liz Miller CDA. All images contained in this site are copyright protected. Any use is strictly prohibited without written authorization from Liz Miller CDA.