I would love to teach a workshop for you and share my joy in painting. I will usually travel to teach with in a 5 hr drive from Raleigh NC.
Below you will find samples of projects that I offer for seminars.  All paintings are in acrylics, or mixed media, and in my own style of painting.   I teach the theory and techniques for each project.
I have been a DecoArt helping artist for many years and appreciate the excellent quality of their products.  I create with mostly DecoArt products and paints, both Americana and Traditions.
You are responsible for your own surface in the appropriate dimensions and paints.
You are welcome to schedule a special seminar for your group of 4 or more painters at Artful Endeavors.

Please contact Liz at artfulendeavors@raleigh.twcbc.com for details.
Designs by Liz Miller CDA
Autumn Color  1 day, 12 x 12″ Canvas or art board.  Explore center of interest and intensity.
Coastal Boat Wreck  1 day, 8 x 16″ canvas.  Painting light and shadow.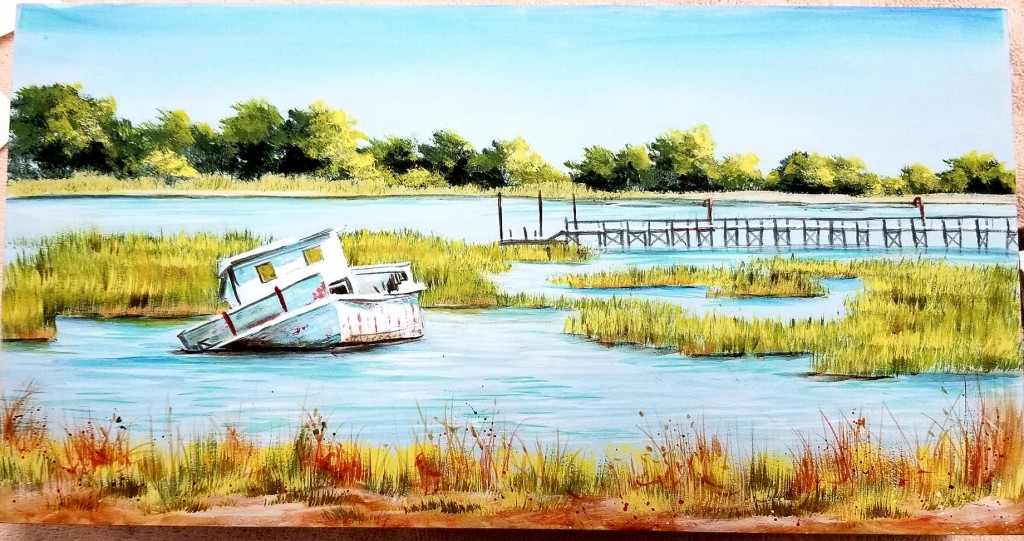 Italian Window, Blue Wall  1 day, 8 x 8″ canvas
Italian Window, Brick and Plaster  1 day, 8 x 8″ canvas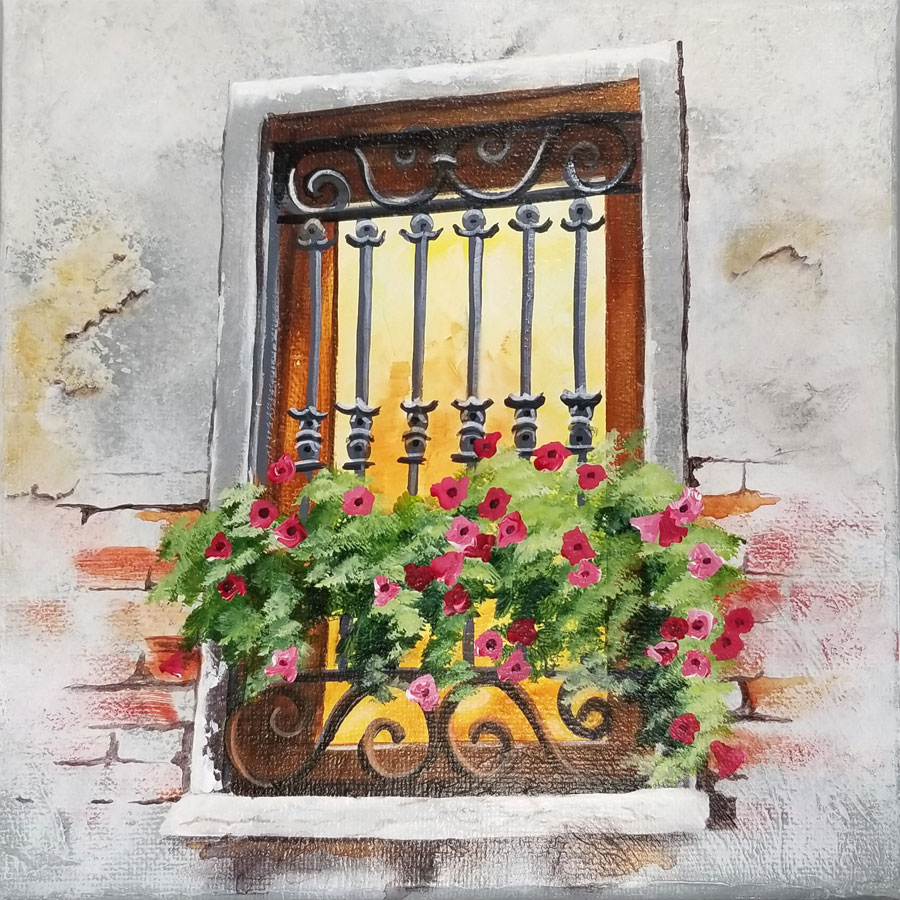 Green Door  1 day, 11 x 14″ cold press watercolor paper. Acrylic over texture.
Pink Hydrangeas 1 day. 12 x 16″ canvas. Learn to paint iridescent pitcher and pink hydrangeas using an analogous color scheme.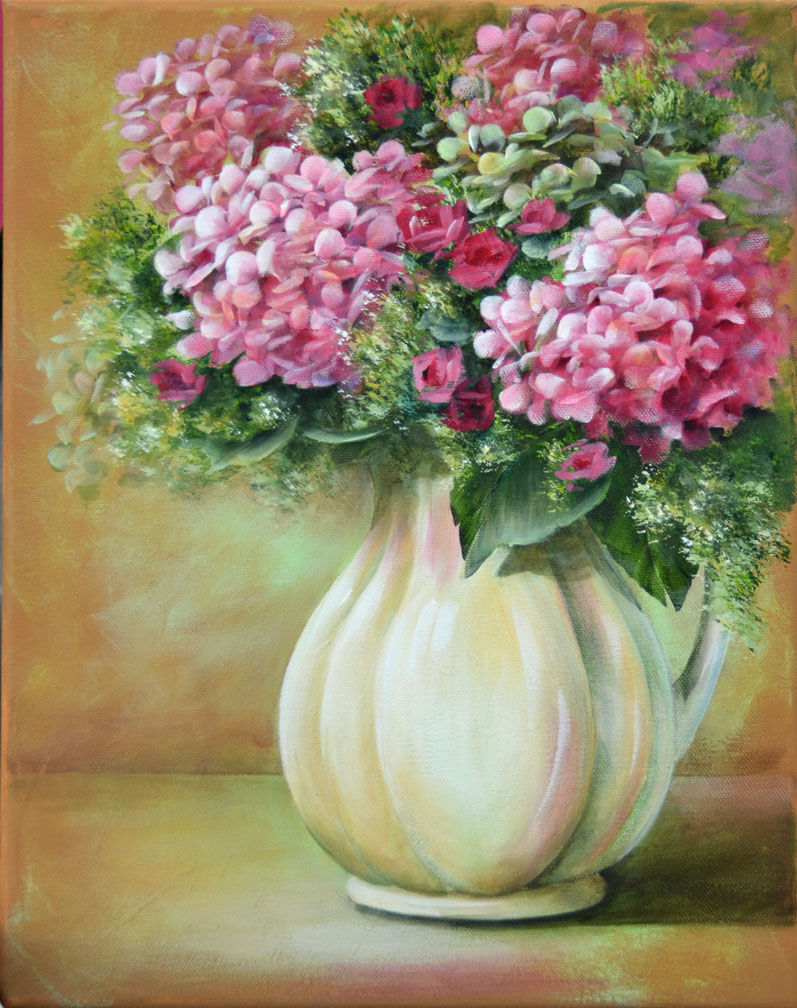 Cobalt and Blue Hydrangeas  1 day.  We'll learn techniques for painting transparent cobalt blue glass, leaf technique, and graceful hydrangeas.  16 x 20″ canvas.
Giraffe 1 day.  Dry brushing on a rolled, mottled background.  Giving this fellow character.  8×16″ canvas.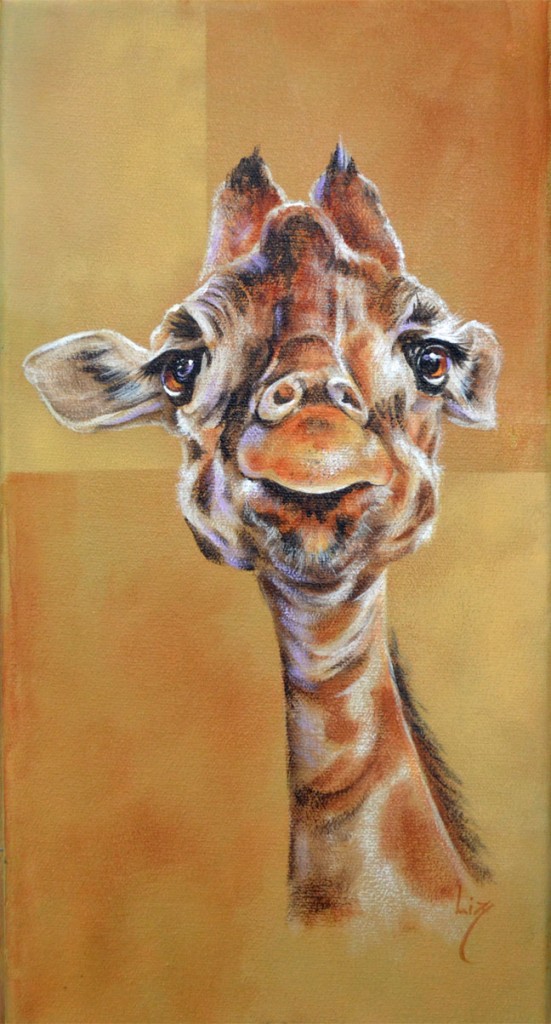 Zebra 1 day. Creating volume in black and white on the zebra. 12 x 12″ canvas or Artist Panel.
Paint Your Pet   1 day.  8 x 8 canvas or art board.
A character study of your favorite furry one, your pet or borrow one from a friend.  You will work from a photo of your pet, mostly a head painting. Be sure you have good, sharp detail of the eyes and nose.  Your photo should show your pet's character to create an interesting painting.  We'll work on the common features such as eyes and nose together. Then you will progress to the fur all with assistance from Liz.  Photos must be approved by Liz.
Pumpkin Field  1 day 12 x 16″ Canvas or Art Board.  Muted fall colors. Ariel perspective.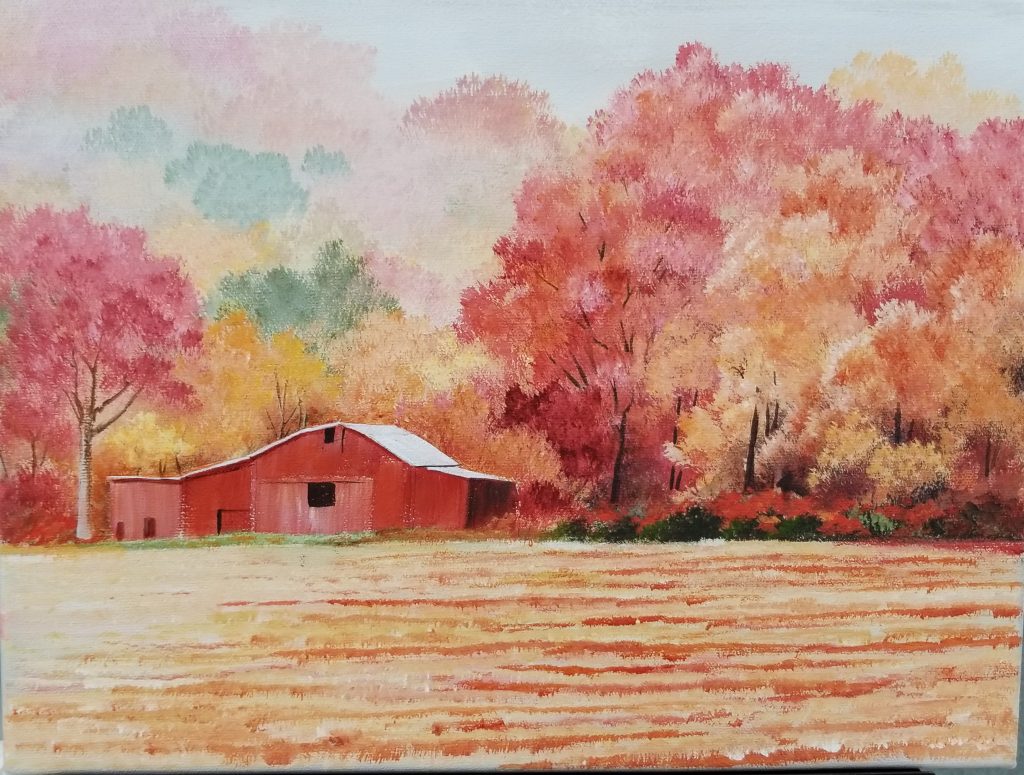 Winter Skies, 1 day. We'll focus on painting colorful winter cloud formations. 12 x 12 canvas or Artist Panel.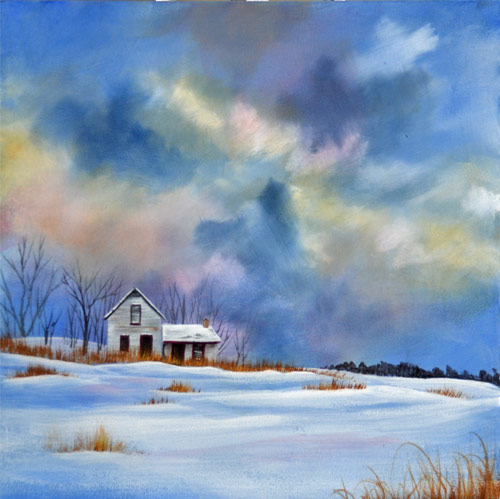 Winter Skies
Clouds and Snow  1/2 day, 8 x8″ canvas or art board. Learning sun and shadows.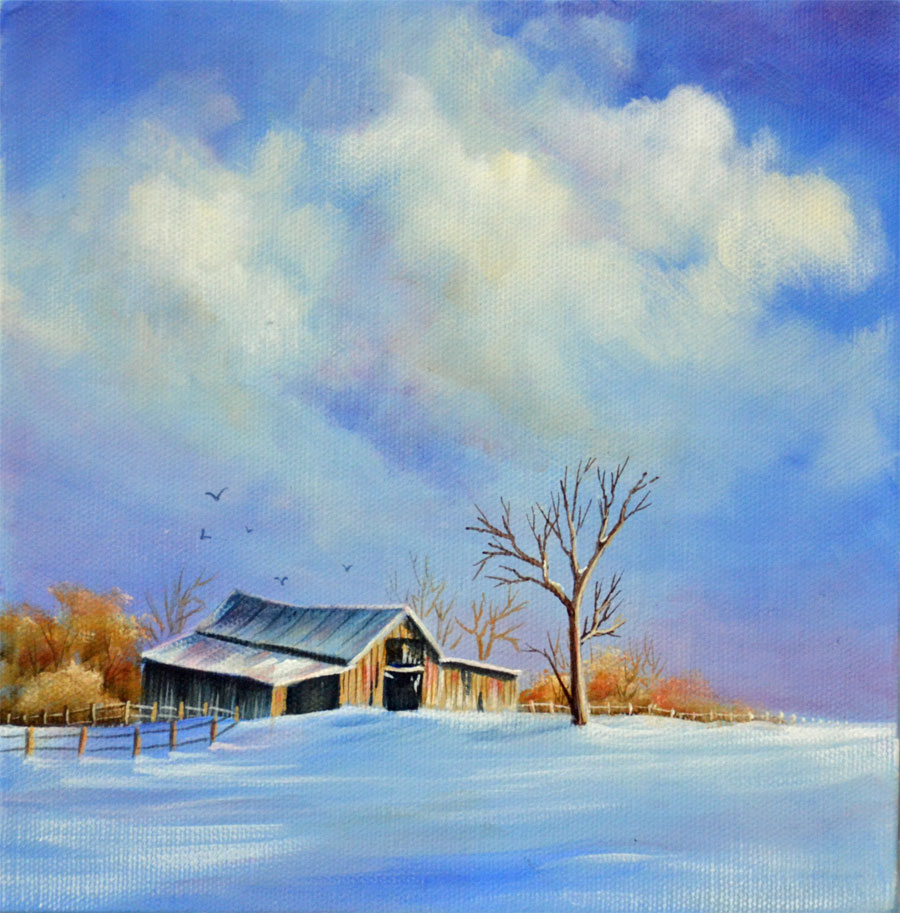 Road to Know-Where. 1 day. A design project where we study perspective and textures. 12 x 12″ canvas or Artist Panel.
Bass Harbor Lighthouse. 1 day. Focusing on painting late evening light. 12 x 24″
Snow Fall. 1 day.  A colorful winter scene. 16 x 16″ Canvas
Grazing. 1 day. We'll focus on the wonderful textures of our horse and fence. 12 x 16.
White Tulips, 2 days.  On a toned canvas, we'll develop the many textures and center of interest of this festive painting.  12 x 16″ canvas.
Under the Maple. 1 days.  Learn to create textures of tree bark, cat fur, weathered wood, worn whitewashed cinder blocks, and leaves with acrylics. 12 x 16″ canvas.
Morning Ride.  1 day.  Acrylic.  10 x 10 canvas. Painting back lit sunlight over a misty background.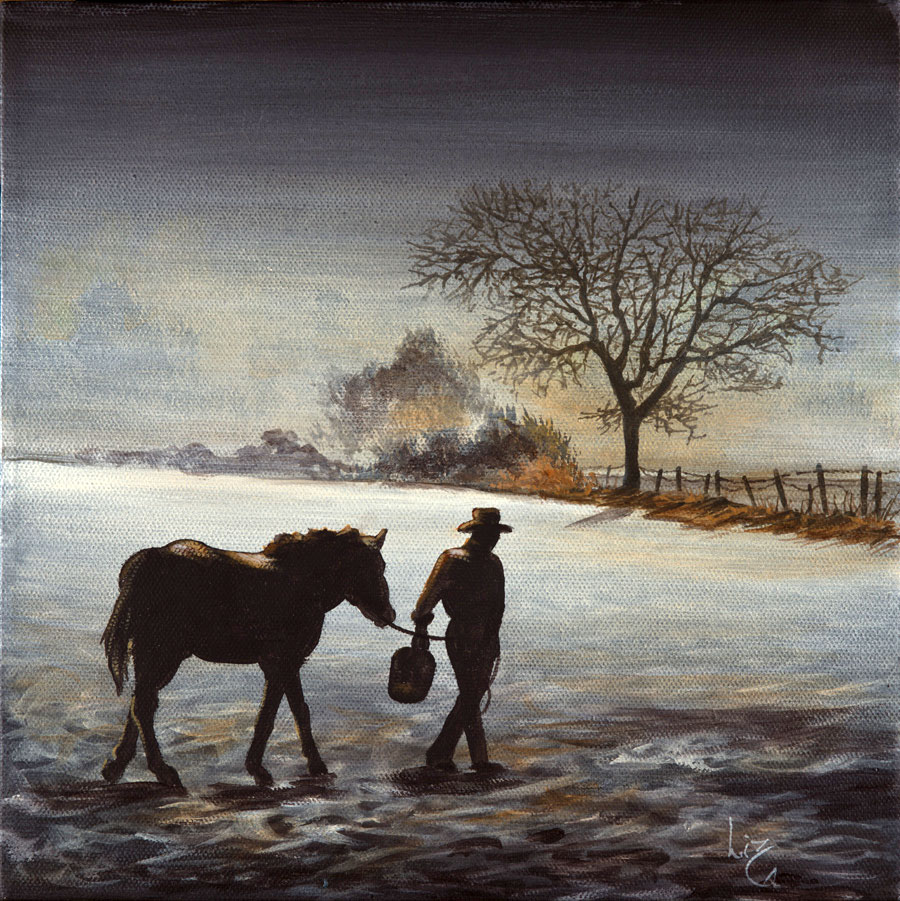 Harbor Dreams, 2 day project. Texture study using texture products and paint.  16 x 20″    
Shells and Surf.  2 days, or 2 shell paintings in 1 day.
Shells and sand on four 6 x 6″ canvases portraying the play of light on sand, the advancing or retreating surf, and the beautiful shells offered up by the ocean.
Redbud and Sweet Gum 1 day.  Exercise in the art of painting foliage. Crackled border. Painted on canvas.  8 x 24″ canvas.
George Under the Barn.
1 day project.
Yellow long haired tabby. Creating textures with acrylics. 9 x 12″
Leaf Study
.
1 day Workshop.
Theory class. How to paint realistic leaves. Includes side loading refresher and advanced floating. Study will be painted on sample surface to keep as your leaf painting reference.
Portrait Study, 3 day workshop.   Students will supply an 8×10″, full face, photo of their own selection. You will learn to accurately trace your facial features to prepare your design. We'll use dry brush techniques learned from Ronnie Bringle to achieve a beautifully finished product. Individual attention will be given to each student as possible given the size of the class. DecoArt Traditions paints used.  Maximum number of students 12.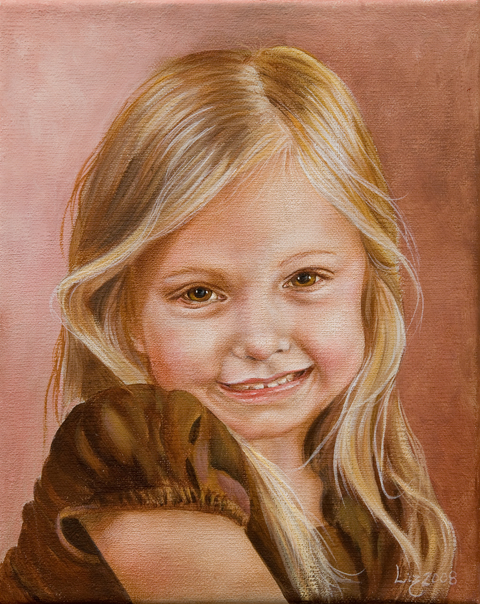 Red Barn Window.  1 day.  Acrylic on 16 x 20" canvas.  We'll work on the textures, with or without the cat. You could add a spider web instead of the cat.

A Pumpkin Peek:  1 day. Acrylic.  Palette knife background.  11 x 14 canvas.
Night Hunter: 1 day.  Mixed media on 11 x 14″ canvas.   Pan Pastel, acrylics, colored pencil.
This is a side loading workshop, Berry Bowl. 1/2 day.  We'll break down my technique for side loading, and use it to create this bowl of berries sampler.  8 x 8 Gesso Board.  1/2 day, Acrylic.
Waiting to Hatch, 1/2 day, 8 x 10" canvas or your choice of surface.  Acrylic.  Mottled background with twig and nest textures.  ½ day. 
Field Flowers.  1/2 day.  We'll create a white cone flower on a textured background.
Owl, cat, and Pumpkin Ornaments:  1/2 or 1 day class.  We'll paint your choice of ornaments to fill our time.
Save
Save