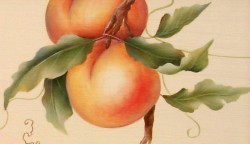 If you know what that means then you have learned about side loading your brush from me either at one of my studio classes or one of my online classes.
And, you have improved your side loading and floating. Once you have the hang of side loading correctly it's such an easy and convenient technique for adding volume and depth to your designs.  And quick.
So many painters moan and groan when you mention side loading that I realized that it was just not being taught in a logical manner so that they understood the technique.
My students asked such good questions about why my SL technique was successful that I had to really think about what I was doing that worked. And I did. When my students use the technique correctly they are successful also. That doesn't mean that we don't get lazy some times and get sloppy. But cleaning up the technique will bring us right back.
Here is an example of floating glazes with a SL that I painted from a beautiful Gretchen Cagle design.
If you would like to find out about my technique for SL to learn or improve your technique, you'll find my Mastering Decorative Painting Basics #2 video class on Creative Workshops where I break it down in a step by step manner for you.  I'll be glad to demonstrate as many times as you would like. And then it's just practice.
Remember push, cross over, and blend 20 times.
Good SL to you!
Liz