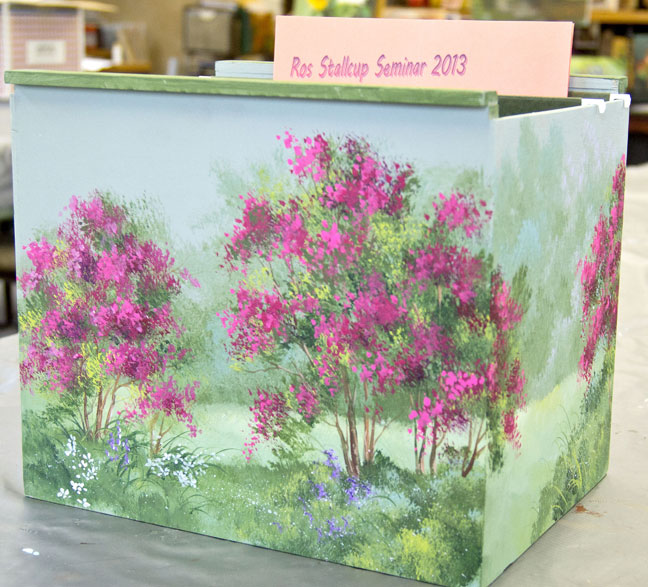 Spring is finally here! I was away April's first weekend and when I returned, spring had happened. The wisteria, forsythia, monarda and lots of other plants have busted into bloom.  NC is looking very colorful right now. And after the rains the last weeks we're looking very green, all the lively, fresh, spring greens. I love to see all these different shades of green. Now I would like to see a little more rain to wash away some of the yellow pollen.
Speaking of being away the other weekend, Gail and I took a long over due get-away-trip to Nashville TN to Art Is You, art retreat, and had a wonderful time. I thought I would enjoy my 2 classes but was very pleasantly surprised at how much I enjoyed them.  What fun, doing something totally different and learning new skills.  Did you see the photos from my last post? There you'll see my sculpted doll, Maureen I named her, and my wild Baba Yaga birdhouse. I've had such fun showing them off. Now I want to do more………….  Gail and I had a chance to catch up with each other, share an art experience, and meet lots of new friends and some that we had just known over the computer. Nice to put a face with the text.
The theme that kept coming up at the retreat was that it's not about finishing a project that's so important to our creative souls, but the creative process. That's been on my mind a lot recently even before AIY. I have so many not yet finished paintings and some of them I am not interested in finishing because I'm at a different place in my artistic journey. I've progressed in my art knowledge, technique, and, most importantly, what excited and inspires me. So, it's OK if I paint over something and start a new painting. Now that liberating.  I hope my students are learning, stretching and are motivated to try new processes or go further with what intrigues them.  I'll still rejoice with them when they finish a painting too.
Ros Stallcup's samples are at the studio! Her paintings are wonderful. It's always such a treat to see what she creates from our vague ideas from the previous summer. Come by the studio to see these beautiful paintings, register, and/or pick up your prep and surfaces.  I do have surfaces for sale and they are at the studio.
Register now and see larger photos!
I'm working on our upcoming class samples and have several started. Be sure to check the schedule and plan to join us for some exciting painting.  We have more Dorothy Dent designs, a paint your own building scape, a large beautiful Iris, a colored pencil workshop, and several requested workshops. We also have new 3 hr workshops coming in May and June. These workshops require no previous experience so are excellent for anyone wanting to experience a painting class with us, children 8 and up, plus our experienced painters who are enticed by the subject. You can find all of our classes and workshops by clicking on classes on our menu.
Kathie George and I are working out the detail for her Nov seminar at Artful Endeavors. She has sent photos for us to choose from and that's the difficult part, narrowing down our choices. They are all terrific. Stop by the studio soon if you would like to offer an opinion.  We'll have some combination of batik, watercolor, and mixed media. Be sure to mark your calendar for Nov 11, 12, & 13, that's Mon-Wed, 2013.  More detail soon!
More later.  Enjoy your painting journey.  Liz
On the Easel- in progress…
Just a peak at what I'm painting right now. Just wish I have twice the painting time. Each one is totally absorbing.