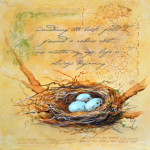 I hope you all have had a wonderful holiday season with lots of time for family, friends, and fun. I've enjoyed myself this year on our holiday break.  I've had some time with my family, attended some awesome holiday parties, and had some quiet, soothing, creative time. 
Here are some of the paintings that I completed for my family for Christmas. I can show you now since I've given them.  My family member were very pleased.

Now I'm ready to see all my terrific students and get back to sharing our art. 
Yesterday was our Back to Painting Party and it was exciting to see everyone, our usual crew, some who I had not see in awhile, and some who are new to our area or just haven't paint with us before. And there are some new enthusiasts who want to get involved with art and painting.  I'm always excited about introducing other to our creative ventures.

I'm now preparing myself for our 2014 painting.  My Jan to-do list looks something like this:
·

       

Clean up the studio! I've left all my projects out on the tables, nice to be able to do that, and have lots of organizing to do.  Done once and I'm sure it will need doing again numerous times.

·

       

Catch up with class samples

·

       

Enjoy our returning painters and challenge each one to stretch and grow in skill and enthusiasm

·

       

Get details completed with Ros and post our upcoming July seminar

·

       

Tape more on-line classes for Creative Workshops

·

       

Take classes myself. I have some interesting on-line classes I'm considering

·

       

Eat more healthy again

·

       

Continue exercising

·

       

Keep adding to my list and checking things off, although some items above are ongoing.
 Upcoming in Jan 2014:
We have lots of new classes planned with new techniques popping up as well as some of our usual favorites. Over the past several months we've acquired a list of projects that we want to paint. Here they come.

Our Wed day class and Cary evening class want to paint the Morning Ride that I painted for my brother for Christmas. Photo is above.
For Wed evening, we have a mixed media painting planned called Nesting.  Our version of a Linda Lock design. Lots of fun techniques and all in one 3 hr evening!

We have a workshop coming up on Jan 25th, Watercolor Poppies in the Rain, a Mark Polomchak design. I need to get that sample painted so you can see it.
 For more class info including hrs and dates, please check the classes pages.
Let me know if you enjoyed the new web design.  I'm off to be creative!  Liz