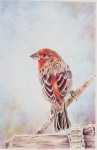 Medium, definition: the material or form used by an artist; the intervening substance through which impressions are conveyed to the senses; a liquid (e.g., oil or water) with which pigments are mixed to make paint; a means by which something is communicated or expressed (that fits, right?)
And we have been on a journey exploring different mediums this year and having such fun. All the art theory applies, it's just learning to use the medium that is the excitement. It's how we are exploring, gaining knowledge and learning to apply the art experience we already have to a different medium.
We started the year with our usual favorite, acrylics, but exploring how to create a mist or fog effect with our paints using glazes and layers. And they turned out very foggy just as we wanted.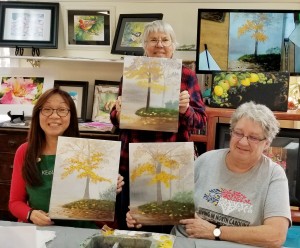 Next we have been playing with colored pencil this month, first with a House Finch design of mine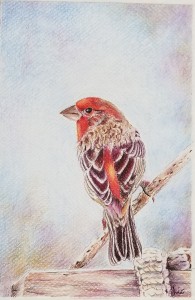 and now each student has chosen a design they would like to create with assistance from me. I can't wait to see the results. Again we are stretching our knowledge and learning to work with a new medium for most of us. What fun! I'm getting comments from students saying that they love colored pencils.
Next month we'll continue our explorations of pastels which some of the students have sampled and enjoyed. We worked on Kay Witt's awesome fox and our creations were also wonderful and exciting. I've just finishes an Italian Sailboat design that I think was lots of fun. We'll start work on that on March 6. 
Plan to join us on our mediums explorations and exercise your mind. We have more acrylic and watercolor classes coming up! Keep watching the schedule.