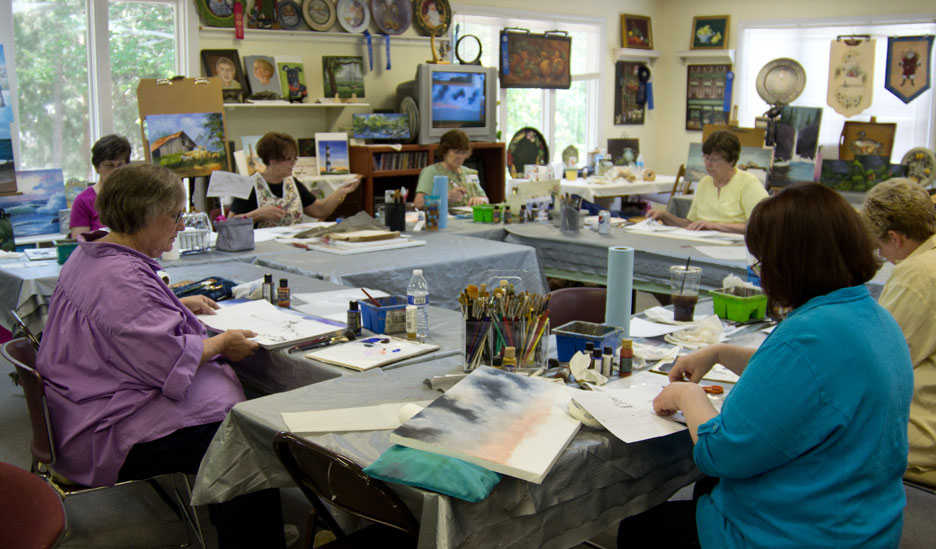 June 2013 started with a hot day outside and some cool painting inside the studio.  We had a lively group of painters here on Sunday painting stormy skies of Night Vision: learning, laughing, and scheduling more workshops for the summer.  Students left the studio commenting on how much they learned from this class.
On Aug 31 the students have schedule for me to teach my Cobalt and Hydrangeas design. This will be the last time I can teach this design for the year so be sure to join us in Aug.
I've been busy painting upcoming projects for workshops. I finished my Rope Swing design for our Summer's End ArtFling.  I've been wantign to paint mist and have had a request for a weeping willow. Here I've combined them both for what I think is a nostalgic painting bringing back memories of early morning  from younger days.  I've designed this painting for all levels, so no prior painting experience is required, but always appreciated.  Gail has become a Gelli printing addict and she is planning to share her Gelli passion with us. Each participant will get their own Gelli plate to experiment with and keep. You'll mono-print on fabric as well as paper.  Find more information and register here!
The Bodie Lighthouse was another of my recent paintings. This is one of the 3 hr workshops coming up June 21, either day or evening, your choice. No experience needed to join us for one of these workshops.  Supplies and surface is included.  Register now!
Starting this Wed evening we will paint the Susan Crouch Watercolor Sheep.   This will be a 2 week class June 5 & 12, starting at 5:30p until 9p so that we'll finish in the 2 weeks.  We'll have fun exploring new watercolor techniques for novice watercolor enthusiasts.  Register now.
Our seminar with Ros is approaching quickly. We still have seats for most days.  Mabry's Mill is full on Tue,
but I am keeping a wait list and if we get enough interest on the wait list we can see about adding another class.  More information and registration!
Registration is open for our seminar with Kathie George, Nov 11, 12, & 13 and we have an exciting assortment of projects chosen.  We'll create a trendy watercolor Shell Weave using cheese cloth for an interesting effect in our paintings.  We're also
painting a batik, Cat in the Snow, who is actually my cat from a photo that I took in the 70s.  How "cool" is that.  Then there is the Ducks in a Row, my personal favorite, using powdered inks for a very interesting effect.  Leave it to Kathie to keep coming up with exciting new techniques for us.   Register now!
Gail and I are ready for our Summer's End ArtFling, Aug 17 & 18.  We're asking everyone to register by July 31 so that we can make sure to have all the supplies ready for class.  Plan to join us for some Gelli-licious, paintabulously, creative fun.  Register now!
My next trip to Litchford Falls Healthcare and Rehab Center to demonstrate for the residents is coming up June 13, 2p,  if anyone would like to accompany me. I have a following of residents that join me each month to make suggestions and approve my painting. This is a very rewarding trip for me, sharing my love of painting, and giving back to our community. And enjoying some special people I've met there.
My vacation is coming up the last week of June. It's time to study the ocean waves, sand dunes, and coastal skies, just for reference of course.  So no classes June 23 – 30!
Be sure to check the schedule for updates and additions. We're being creative with our class times this summer so double check hours too. So much to paint and so little time.
Paintingly,
Liz