We're excited that Ros is coming back to teach for us again in 2017. 
We'll be celebrating 20 years of painting with Ros at Artful Endeavors!
Dates are July 19, 20, 21, & 22, 2017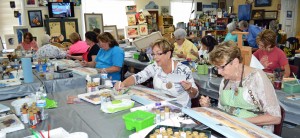 During our seminar last July we collected project ideas for this year's seminar from last year's students. Now Ros has our ideas and it is always exciting to see her creations fill out these ideas and become works of art.