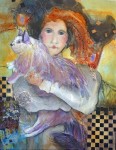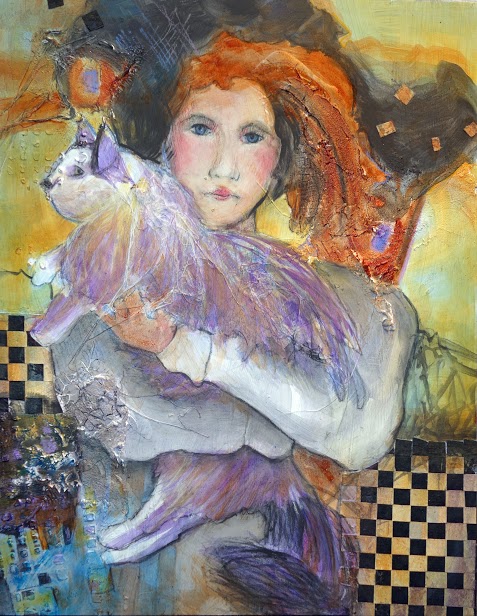 In addition to our yearly 3 day workshop, Kathie is bringing us a special surprise workshop this year, her Creative Figure. This looks like so much fun. I'm sure that this funky workshop will appeal to the creative spirit in those of you adventurous artists. Plan to join us for some Kathie type experimentation.
Thursday's Special Workshop: Creative Figure!
This workshop requires separate registration.  $100
Note From Kathie:  THIS IS FUN, ACTUALLY. IT'S ABOUT DOING FIGURES, BUT NOT WORRYING ABOUT A LIKENESS.  THE WONKIER THE BETTER. IT IS DONE ON GATORBOARD, BUT COULD BE DONE ON HEAVY WATERCOLOR PAPER OR A PANEL. NOT CANVAS, THOUGH. NEED A MORE RIGID SURFACE SO THINGS WON'T CRACK OFF. IT'S ACRYLIC AND COLLAGE AND TEXTURE GELS. WE USE ALL SORTS OF STUFF. ANYTHING GOES. PAST STUDENTS HAVE HAD A BLAST. THEY CAN BRING PHOTO OR I JUST USE A PHOTO OR TWO FROM A FASHION MAGAZINE.  I GIVE THEM A BASIC FACE HAND-OUT – LIKE HOW TO LINE UP THE NOSE, EYES, ETC.  WE CONCENTRATE ON THAT A BIT, BUT THE CLOTHING, HAIR, ETC. CAN GO WILD. THEY CAN PUT THEIR PET INTO IT, AS I DID .
Here are just a few examples of Kathie's creations.
Now doesn't that look like fun?  Register Now!