Welcome to 2017! I hope you had a holiday season filled with family, friends, and holiday fun. And now it's time to look forward to the new year with all it's possibilities.
2016 was a busy year for us filled with lots of new painting techniques and creativity in our weekly classes and workshops. We had four seminars with wonderful instructors bringing us various new ideas and techniques, and bringing students from around the state and beyond. We've stretched our abilities, tried new concepts, succeeded and failed, and learned from all.
Did you see our pictorial review of 2016 on the blog?
At Artful Endeavors I've had 3 weeks off from class that have sped by all to quickly. I've worked on the web site, updated schedules, explored some new painting ideas, and taken some needed time off for family and relaxing. And now I'm preparing for our 2017 classes.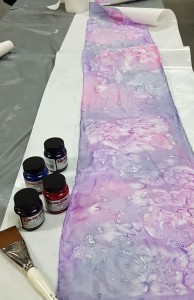 This year at Artful Endeavors we have some exciting exploration planned: more acrylics of course, more watercolors, learning about new products and their possibilities, pushing our artistic and painting knowledge, and just having fun with our art and fellow artists. We are scheduling some time for painting scarves, batik, portraits, pet portraits, and original "paint your own" projects. And more seminars with Ros Stallcup, Mark Polomchak, and Kathie George! Be sure to keep checking the schedule for updates.
As you know our winter weather in NC is somewhat unpredictable so watch the blog for class changes due to weather. Our painting time is important but more important is keeping our painters safe and off the roads if the weather conditions are unsafe. I'll post any class postponements that day and schedule adjustments as needed.
Let's get ready for some painting in 2017!
Liz