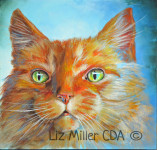 Jan is flying by at the studio with lots to paint, the shop to stock, and best of all, students returning from the holidays.  We're well into our Jan class schedule with enthusiasm and plenty of ideas for upcoming projects. I have the best-est students ever.
Morning ride has and is turning out awesome, each students adding their own flavor to the painting.  We're still working on the painting in Cary and I'm looking forward to their finished painting, some of them quite excitingly large.
Our Raleigh group is starting the first in our Doorway series. Some of the student are painting my design but some of them will be designing their own doorway painting.  I hope more will join them in the next of our doorways.
Our Nesting mixed media turned out awesome. Lots of personal touches there.  Thought you might like to see some of the student's paintings.  This design was lots of creative fun.
CADANC, Capital Area Decorative Artists NC, meet at the studio for their first meeting of 2014. It was so nice to see everyone and share a painting experience. Susan T was our teacher and she did a wonderful job of instructing us in painting a pet. Well you all know that this is one of my favorite painting subjects and I was enthused.  It took me most of the month to decide on which cat photo from which to paint.  After making a couple of choices and printing them, at the last minute I changed my mind and chose another, just like choosing from the menu at a restaurant if the server gives you too much time to make up your mind.  I did love my final decision, George again.  He was so photogenic, a green eyed handsome fellow.  Here he is. I was very pleased and am ready to paint another of my earlier choices, but class project need to come first.
OK I need to move over to my painting table where I have projects waiting to be started. I'm off to paint.
Liz